[social_warfare buttons="facebook,twitter,totals"]
Spyro, Drama, Willie, Kidd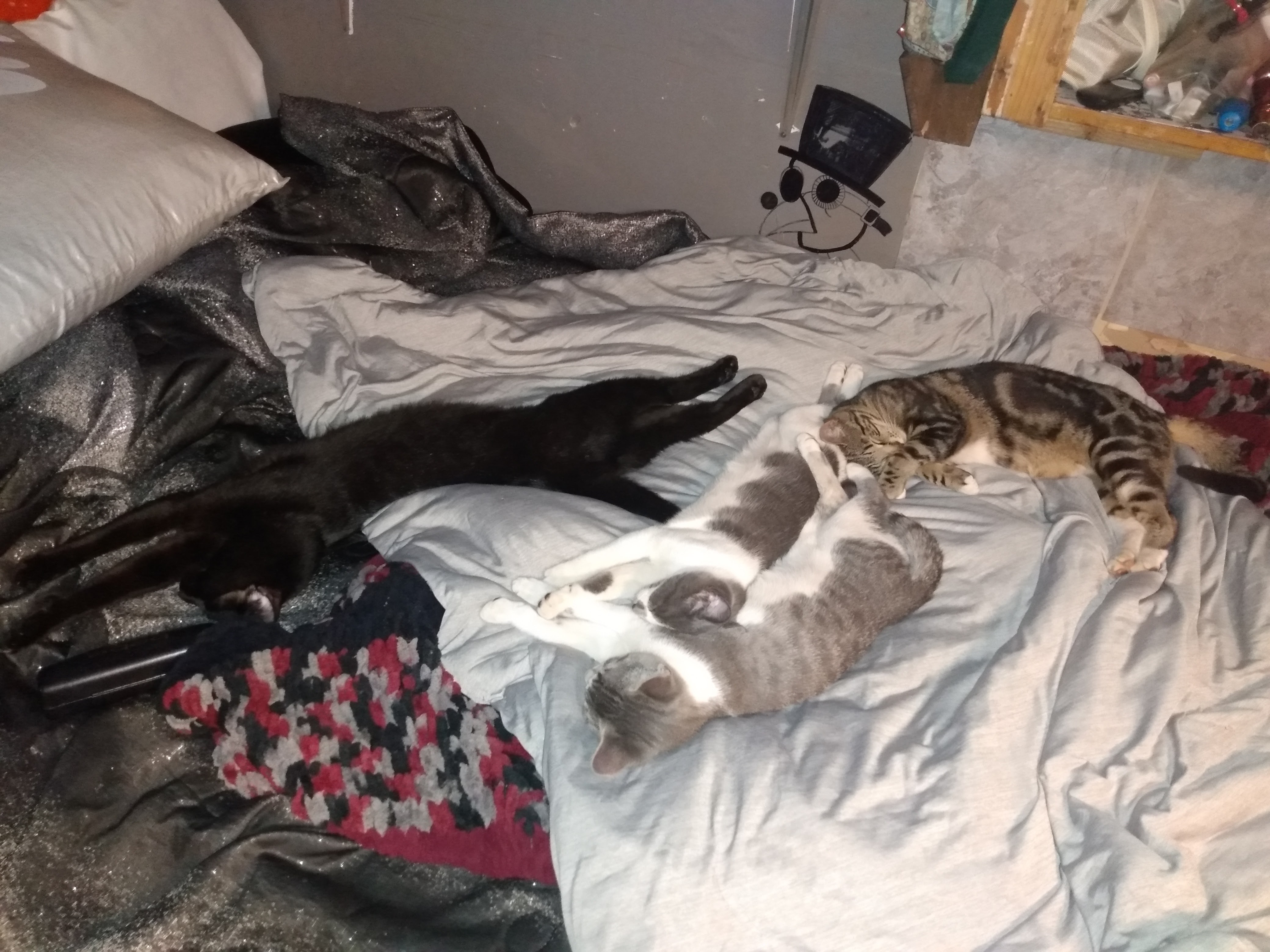 Location: Everett, WA
Age: 1 years, 0 months
Posted on: 2/1/2023
Posted by: Individual
Spyro, Drama, Willie, Kidd urgently needs a foster home
Why is fostering needed?
I had to leave the place I was staying, and not in the meantime I'm staying with my BF on the down low at his clean and sober house till I can find permanent housing. And if the manager found out there were cats here both of us would be on the streets instantly.
I have 4 cats and I'm willing to travel anywhere from Mount Vernon to Lynnwood to Woodinville and Monroe and anywhere in Everett of course
How long is fostering needed for?
A few months
Other notes
Spyro the all black one is very friendly, when he comes in from being outside he will want your attention bad, you have to use both hands to pet him because to him you can't pet him fast enough, he is very chill and low maintenance. The only thing about him is if he's super hungry and you haven't fed him he will nip your leg just enough to pinch a little bit, same goes if you have him locked inside and he wants to go outside or needs to go potty and you can't let him outside. He will end up using the litter box but he prefers to go outside, but sometimes in some situations he's had to be kept inside. Oh yeah and he likes fire so you have to watch him around candles or other open flames, he has burned his whiskers off before and burned parts of his fur off and keeps going back to check it out.
Kidd is the white and gray patched one, she is spyro's younger sister from the litter after his and she didn't like her head being pet, she's very weary of people so she doesn't care for a lot of attention, but she loves her upper belly and chest rubbed. And Spyro is her favorite person in the world, she is glued to him. If she was separated from Spyro she wouldn't be able to live on.
Willie is the mostly gray with drive white and is from the same litter as Kidd and he loves to cuddle and has quite a bit of energy. He's very curious once he gets used to a place which hasn't always turned out good for him in the past. He's always been pretty accident prone, luckily not to the point of broken bones or needing stitches.
Drama is the striped one and from the same litter as Spyro, and she is very dramatic. Scares easily, overreacts a lot, especially when playing with the others, if she gets pinned by one of them she screams like she's being murdered. She also has pretty high energy and is a little aggressive with her playing tactics and shec sometimes randomly grabs at you when she's being pet.
None of them have been around dogs or children.
And drama is the only one who instantly doesn't welcome stranger cats. I've never seen her get in a fight with one or go out of her way to hiss at one, I've only ever seen her hiss and growl. And Spyro only growls if the stranger kitty is eating his food.
None of them have medical problems, and I have them eating grain free food preferably and no by products.
They are all very skilled mouse hunters and bird hunters, I'm pretty sure drama was the one who brought home a wood pecker before. Oh and drama like to bring home really really tall blades of grass or banana peels.
Help spread the word:
Share this page directly with someone who can foster or friends who can help
Share on social media by clicking on the Facebook or Twitter button at the left side of this page
Share directly in communities like Nextdoor.com or Facebook Groups
Interested in fostering Spyro, Drama, Willie, Kidd or have questions? Sign up Here
Together, we can save the day for Spyro, Drama, Willie, Kidd .
P.S. Check out our blog to read some great foster
pet experiences and follow us on Facebook, Instagram, or Twitter.