Remi (male beagle/lab mix – tricolor) and Star (female patterdale terrier – mostly black with reverse brindle)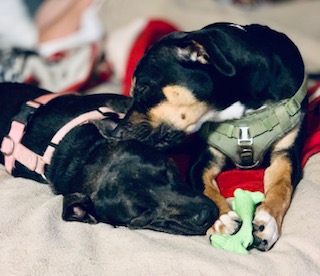 Location: Morrisville, NC
Posted on: 6/3/2022
Posted by: Individual
Remi (male beagle/lab mix – tricolor) and Star (female patterdale terrier – mostly black with reverse brindle) urgently needs a foster home
Why is fostering needed?
We are currently living in a hotel and they just changed the policy so that children under 18 are not allowed to be outside without a parent with them, which means my son can no longer walk the dogs himself. We just need someone to foster our two dogs until we save up enough money to move out of the hotel and into another pet-friendly property that does not require underage people to have an adult present with them at all times. I am estimating we will need foster care for them for 3-6 months while we get our lives sorted out. We are willing to work out an arrangement where we pay for their food still and would love to visit them if possible. We do not want to put them up for adoption as we love them and they are a part of our family, but our current situation is not working for us to keep them here. Please help take in our two dogs temporarily!
How long is fostering needed for?
A few months
Other notes
Remi (right): male beagle/lab mix (35 lbs). Higher energy than Star. He is an active dog that enjoys playing, being pet, and laying right next to you when he sleeps. He enjoys playing tug of war and keep away. He is still learning how to play fetch. Most of the time he brings the toy back just out of reach and tries to keep it away from you. He is very agile and can jump very high. When he gets excited (like when someone gets home) he will often jump on you, then go to grab a toy and growl/bark with the toy in his mouth while shaking his whole butt side to side in happiness. He loves to crawl under the covers at night, then crawls back out after sleeping for awhile. Sometimes he does this a few times a night (which, I admit, can sometimes be annoying). He knows what no means. He also knows how to sit, shake, and we are working on wait. But if something falls on the floor and you don't want him to grab it, just say no and he will leave it alone. He loves loves loves chewing up pieces of cardboard and plastic water bottles. But, he does not chew on shoes, cords, or anything else that is on the ground that you haven't specifically given him. For example, I sometimes keep water bottles on the ground on the side of my bed and he leaves them alone unless I specifically give him one. Please note that Remi is aggressive towards other dogs. He will attack them so keep him away from other dogs except Star. He is a very protective dog and will defend you fiercely if needed. He does get overly excited and barks and tries to jump on people (sometimes nipping, not mean but excited playful nips, like he nipped my nose once by accident), so it is best to keep him away from others, unless you have training on how to properly socialize him with people and other animals. Is not aggressive with food.
Star (left): female patterdale terrier (45 lbs). Star is very gentle natured and quite a bit more lazy than Remi. However, she loves to be outside and would probably enjoy living outside most of the time if you let her. She loves going on long walks and exploring. She is a little bit clumsy sometimes and stoic. Sometimes she will just sit there and stare at you or at the wall. She is highly food motivated, but please note she CANNOT eat chicken. She is either allergic or has an intolerance to chicken, so please be careful what you feed her. Even if a treat has chicken as a secondary ingredient, it will mess her stomach up and she will either vomit or end up with diarrhea. We have prevented this by carefully watching what we feed her. She knows how to sit, shake, and spin in a circle. She is a little bit more derpy than Remi but we love her all the same. She does not like being pet much, except when you first wake up or when someone gets home (then she gets super excited and is okay with it). The rest of the time she doesn't really seem to enjoy being pet. The best place to pet her is on her front shoulders, sides, and butt scratches. She doesn't like her face being touched at all. She will not bite, however, she just seems like it annoys her and she will walk away. She really does not like to be pet when she is asleep. If you try to pet her when she sleeps, she will get up and go lay somewhere else. She loves meeting new people and other dogs. She is very gentle and never bites, even when playing. Is not aggressive with food.
We do not crate the dogs. They are fully house-trained and will sit by the door if they need to go out. However, Star does have a sensitive stomach so it is best to keep an eye on her and take her out quickly if she needs to go. She is more likely of the two to have an accident if her stomach isn't doing well (like if someone feeds her chicken). It is best to keep her on a regular schedule, taking her out every few hours. For example, our current schedule: Wake up at 11 am, go outside for a quick trip. Feed them. Take them back outside for a little longer potty break / walk. Most days we take them out again for a quick trip at 2 or 3, but it isn't always necessary if they are taken out long enough after eating breakfast. Feed them at 6 and take them out for a long potty walk. Then about 9:30-10 PM, take Star out for at least a 20 min walk and Remi for 10-15 mins. They will then usually play for a bit and when they go to sleep they will remain asleep until around 10:30-11 am most days. Most of the time they should not need to go out at night.
Willing to give any more information if needed.
Help spread the word:
Share this page directly with someone who can foster or friends who can help
Share on social media by clicking on the Facebook or Twitter button at the left side of this page
Share directly in communities like Nextdoor.com or Facebook Groups
Interested in fostering Remi (male beagle/lab mix – tricolor) and Star (female patterdale terrier – mostly black with reverse brindle) or have questions? Sign up Here
Together, we can save the day for Remi (male beagle/lab mix – tricolor) and Star (female patterdale terrier – mostly black with reverse brindle).
P.S. Check out our blog to read some great foster
pet experiences and follow us on Facebook, Instagram, or Twitter.