Pumpkin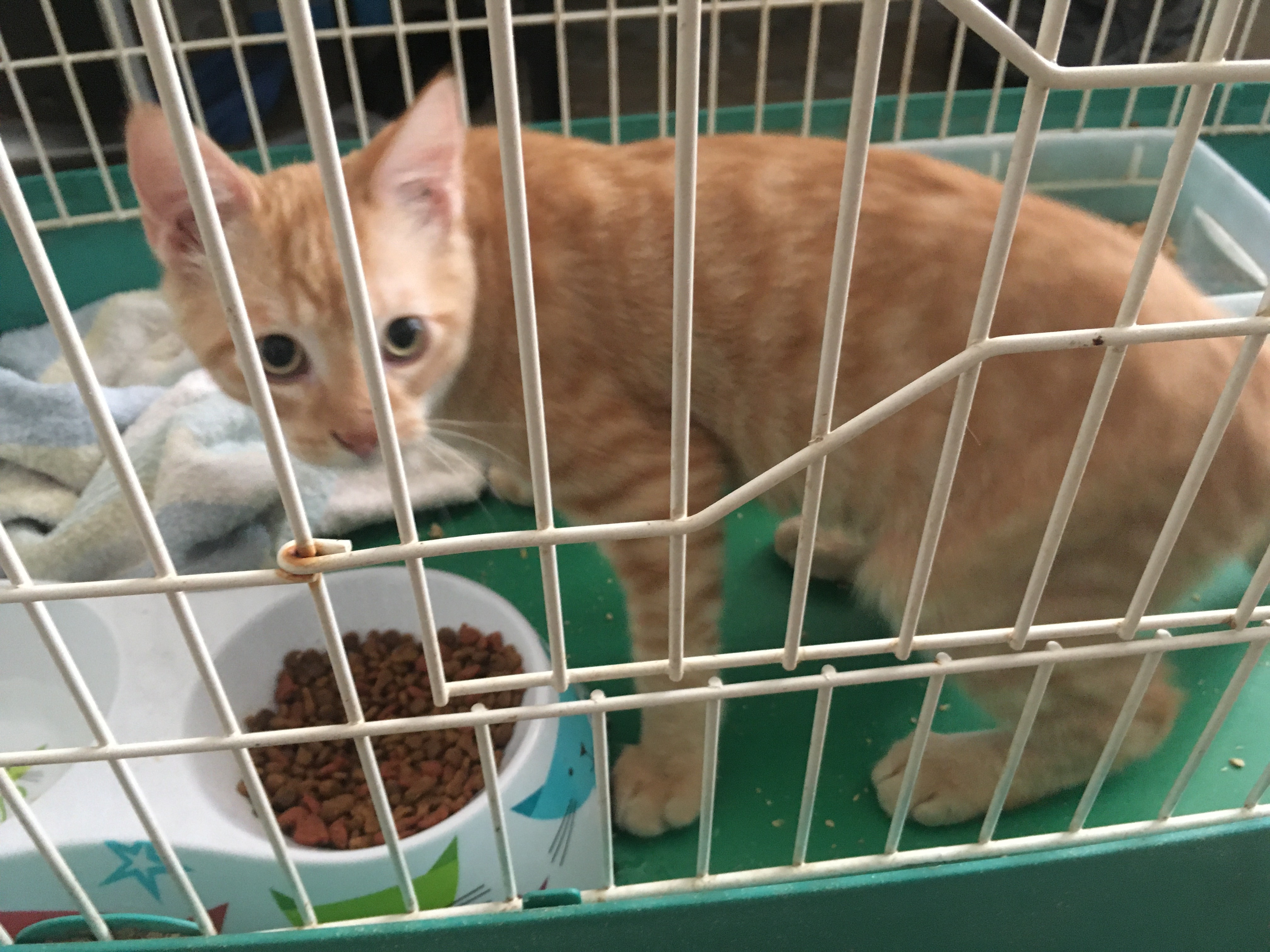 Location: Laplace, LA
Posted on: 10/18/2021
Posted by: Individual
Pumpkin urgently needs a foster home
Why is fostering needed?
So I already had two cats and was barely making it supporting them. Then my neighbor, who keeps feeding all the neighborhood cats (like 10 of them, not count count his own three cats he lets wander the neighborhood) and encouraging all the neighborhood female ones to come in and out of his home and have kittens come in and out but is not claiming any of them as his own…. So there are lots of kittens roaming. He had convinced me to take one in about a year ago, and I have been trying to find a home for this little guy since… but I'm not good at finding homes for animals and a couple of months ago, I was walking back up my driveway and found a little kitten that was about a month old laying under my car and he didn't look good. So I reached for him since I was concerned that he had not run off like the rest of the other kittens. And when I picked him up he seemed lethargic and legs dangling. So I brought him in and brought him to the vet using my mortgage payment to get checked out. Later I found out that the neighbor put the little guy under my van in hopes it would help him. I need to find homes for these two guys. My house is about to get gutted due to hurricane ida and we are about to be in closed quarters but these two guys have not had all booster shots and I don't have a vehicle to transport them and the 1 year old one hasn't been able to get fixed so he gets angry when any other cat comes near him and the little one keeps getting worms somehow even though I keep him clean and dewormed him…. I can't continue helping these two guys (cost and space wise) because I am about to be put into a small living quarters. It would not be fair for either of them and it would not be healthy for the littlest one. Is there anyway you can help me find a more suitable foster family for either of them? They don't have to be together. They've been separated the whole time. And I don't know how the 1 year old will be around other animals. I have not tried. He has gotten a bit aggressive also since he hit puberty so Since the storm, I have hun in a really large crate because he bit and scratched my 11 year old. I'm sure he'd be fine if he had somewhere to run around and if someone could get him fixed.
How long is fostering needed for?
Until a new home is found
Other notes
Sometimes he gets startled randomly and is hesitant. I found him under my vehicle in my driveway with head swaying and wouldn't run off when I came close right before hurricane ida. When I reached under to pick him up, he was weak and legs dangling barely picking up his head. Apparently my neighbor put him under my vehicle thinking the shade would help because the kitten was in the heat outside. I brought this little guy to the vet that night when he didn't seem to be getting better being inside and he had something so the vet gave a bunch of meds. It took a while after the storm but he is better now. I am allergic to him as well apparently so I cannot hold him. But he needs an environment with other cats or kittens because he is rambunctious and full of playful energy. But he needs socializing. His mom and siblings didn't make it according to my neighbor. That vet was serious when he said that coccidia was highly contagious. I'm glad I could help save him but now I need someone to please take him home with them. I cannot afford to keep him and I don't think he'd make it on his own out there. Plus I heard that someone on our street shot a kitten recently… so I am not going to put him outside but I cannot keep him. I just didn't want him to die… and now he's healthy so please someone help him.
Help spread the word:
Share this page directly with someone who can foster or friends who can help
Share on social media by clicking on the Facebook or Twitter button at the left side of this page
Share directly in communities like Nextdoor.com or Facebook Groups
Interested in fostering Pumpkin or have questions? Sign up Here
Together, we can save the day for Pumpkin .
P.S. Check out our blog to read some great foster
pet experiences and follow us on Facebook, Instagram, or Twitter.