Missy Reiger, Jack Reiger, Bella Reiger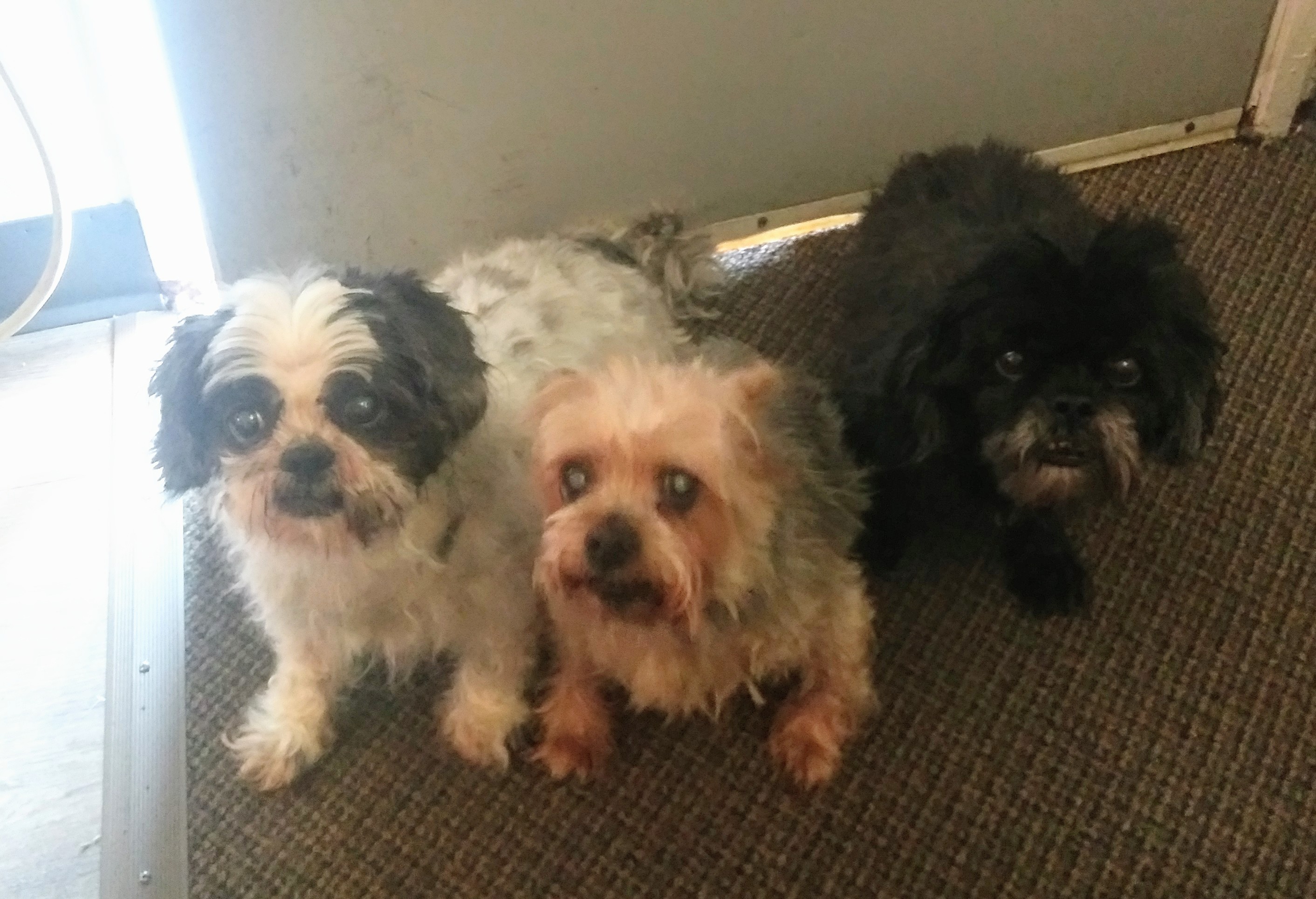 Location: Oshkosh, WI
Posted on: 5/26/2022
Posted by: Individual
Missy Reiger, Jack Reiger, Bella Reiger urgently needs a foster home
Why is fostering needed?
My mother and I were evicted from our apartment about a month ago. My mom suffers from depression and has had to be hospitalized. At the moment, I do not have the resources to take care of them. I am setting something up, most likely in Milwaukee, but I need time and money, and all of my earnings have been going to pay for the motel.
How long is fostering needed for?
A few months
Other notes
*Note: The dogs can be separated, if needed*
Missy (black and white, 15), Jack (Yorkie, 12), and Bella (dark brown, 11) are the sweetest dogs you'll ever meet. 
Missy is fun-loving, kind, bubbly, and unique. She walks with a prance in her step, and no one has not fallen in love with her. She can sense when you're sad, and comfort you whenever able. I have been with her since I was 4, and have her to thank for my life. However, Missy does have 2 heart diseases and needs to take medication for them (1 1/2 pills twice a day), but she is not clinical and needs minimal special care and no special food or diet beyond taking her meds. At a glance (with her perky personality/walk and fun loving spirit), you'd never expect that she has anything. I always say that her heart just can't keep up with her spirit. She does have a cough because of the disease, and she does have a potential of passing out (this has only ever happened once, and that was all the way back in January). If passing out does happen, all you'd need to do is give her physical space and time to get back up on her own.
Jack is basically a toddler. He can vary from being standoffish, cuddly to barking for a while when first meeting you, but once he gets to know you, he is guaranteed the sweetest dog you'll ever meet. He will watch out for you and will give you way too many kisses. Baby talk riles the crap out of him, and he loves chewing away on any and all bones. He's the definition of thinking he's bigger than he is. When you get home, he will grab the nearest object to show off to you and growl while walking about and showing off. It's his welcome home dance, really. Jack does however have cushing's disease. This is something that he has had for a long time, and there is no cure for this. The medicine that is out there is (explained by a veterinarian) mainly for cosmetic reasons. He needs no special care for this, but he does have trouble controlling his bladder and has excessive thirst because of it. Just be patient with him, and don't let that make you forget just how adorable he is!!
Bella is a cuddle bunny, but can be a bit of a nervous wreck. She has been trying to learn past her anxiety in recent years, and she adores Missy. She is a total lap dog and cuddle bunny, and really is one of the sweetest little girls you'll ever meet. She never really barks, and is very well behaved. She can be territorial of her things and space with Jack and Missy (my mom calls her a little hippo), but never with you. She'll typically just give off a low growl to them as a warning. I can think of a few times where she's mistaken us for the other dogs and nearly jumped out of her skin!  Bella has no special needs and needs no special care. 
Like said above, if needed, they can be separated from each other. The main goal is for us to get them back. They are family, and despite hard times right now, we want to continue to have them be family and be with them until the end. I'm not sure if I'd need a few weeks or a few months, but  I'd rather put the timeslot on the long end just to be safe. I was staying at a friends, but in order to take care of the dogs, I have been having to stay at a motel with them until I am able to find them a temporary home while I get stuff sorted out, or at the very least enough saved up in order to give them a stable residence (I am living day by day currently. Food has been secondary for me). Any and all help you can give is appreciated. 
Help spread the word:
Share this page directly with someone who can foster or friends who can help
Share on social media by clicking on the Facebook or Twitter button at the left side of this page
Share directly in communities like Nextdoor.com or Facebook Groups
Interested in fostering Missy Reiger, Jack Reiger, Bella Reiger or have questions? Sign up Here
Together, we can save the day for Missy Reiger, Jack Reiger, Bella Reiger.
P.S. Check out our blog to read some great foster
pet experiences and follow us on Facebook, Instagram, or Twitter.