Falcor and Furatu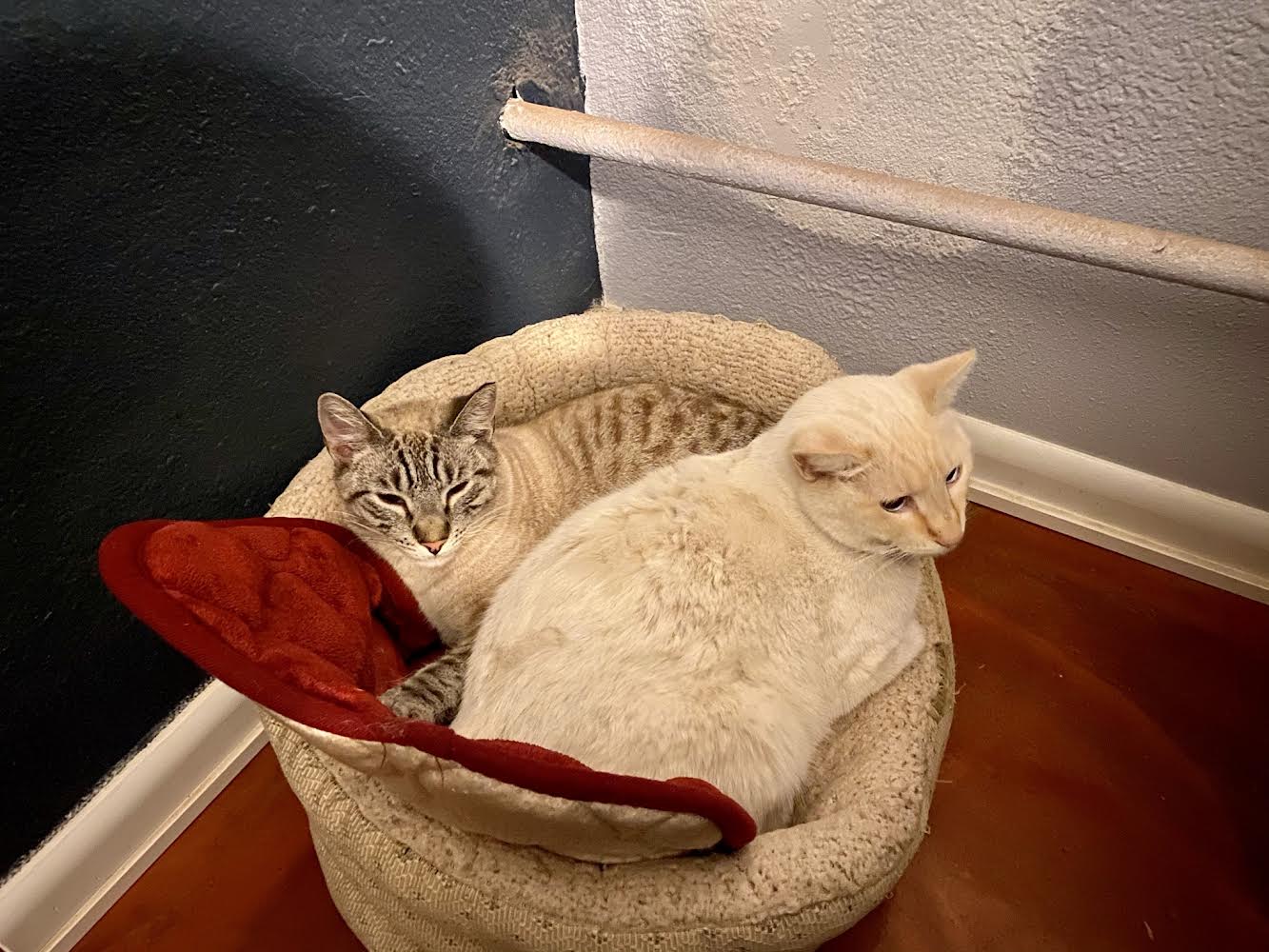 Location: Glendale , AZ
Age: 3 years, 2 months
Posted on: 8/23/2022
Posted by: Individual
Falcor and Furatu urgently needs a foster home
Why is fostering needed?
I am going thru a separation as a result of relationship stress affecting both of our health and we also are having to sell our house due to loss of income from me having to take medical leave from my employer because of a severe vitamin deficiency and anemia that put me at high-risk for Covid complications. My ex spouse also has health issues and at the moment is not able to return to work because he is recovering from medical procedures due to ulcerations in his legs and severe bleeding when they rupture.
We need to have our two cats that are brothers fostered until my ex-spouse, or I, can bring them home.
When our house was placed on the market, my dad came down and drove me to AL with my car to stay with my mom and dad. I was unable to take the cats because we had no space in the car and my parents already have their own cats and dogs and also have a small house.
Might dad was very recently diagnosed with a very aggressive thyroid cancer that is in the 4th stage. He has undergone surgery to remove what they could and is currently undergoing treatment for the cancer. It is the type of cancer that does not respond to chemo or radiation. During the recovery from the surgery to remove his thyroid and surrounding lymph nodes there was a complication and my deck woke up in the middle of the night to heavy bleeding from the incision site on his neck and it triggered a very traumatic PTSD episode that sent him back to when he was a 19yo soldier in the Vietnam war. My dad already suffered from severe PTSD and this episode has greatly affected his PTSD. He is now having complications with that and night terrors on top of the cancer.
I am currently in AL helping my parents with a move of their own to a much more disabled-accessible house that isn't literally on stilts, like their current house is on the coast of AL.
My mom also has diabetes and is manic depressive and is having a hard-time taking care of my dad and helping around the house.
My ex-spouse had to move in with his mom and she is very allergic to cats and doesn't like them at all. She absolutely will not let him keep our two cats there until he is able to move to his own place again.
My ex is currently undergoing multiple procedures on his veins in his legs because of the ulcers and varicose veins that have ruptured multiple times and he has a heart condition called A-fib.
During his procedures that are scheduled to happen once a week till the end of October have put him out of work and his mom is having to help him. He is not able to move out of his mom's house at this time because of his medical condition.
Our two cats are currently in foster but unfortunately they can not foster them any longer.
We are desperately looking for a foster for them together if possible because they are brothers and very close and have been together since they were born.
How long is fostering needed for?
A few months
Other notes
Falcor and Furatu are both very, very sweet. They love people and are quite the socialites. Falcor, has a little sissy voice so his nickname is Sissy. : ) Furatu, is a derp, so his nickname is Derp. 🙂
Both are very affectionate but are fine hanging out by themselves or love being around you or in your lap.
Furatu is like a rag doll and is the sweetest cat I have ever met. Falcor, is close behind him though!
Help spread the word:
Share this page directly with someone who can foster or friends who can help
Share on social media by clicking on the Facebook or Twitter button at the left side of this page
Share directly in communities like Nextdoor.com or Facebook Groups
Interested in fostering Falcor and Furatu or have questions? Sign up Here
Together, we can save the day for Falcor and Furatu .
P.S. Check out our blog to read some great foster
pet experiences and follow us on Facebook, Instagram, or Twitter.